Friday Finds is a weekly meme hosted by

Should Be Reading

where you share the book
titles you discovered or heard about during the past week. These can be books you were told about, books you discovered while browsing blogs/bookstores online, or books that you actually purchased. I think this is a great idea and a way to share my enthusiasm of discovering new books.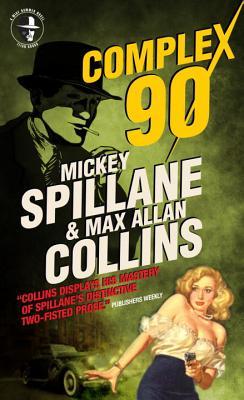 COMPLEX 90 by Mickey Spillane and Max Allan Collins (#18 in the Mike Hammer series. I love Max Allan Collins writing Mike Hammer since Spillane's passing - he's maintained a seamless link with Spillane's rendition of the character and has brought his own hardboiled style to compliment the PI. I missed this one when it was originally released but have ordered a copy.)
Hammer accompanies a conservative politician to Moscow on a fact-finding mission. Arrested and imprisoned by the KGB on a bogus charge; he quickly escapes, creating an international incident by getting into a fire fight with Russian agents.

On his stateside return, the government is none too happy with Hammer. Russia is insisting upon his return to stand charges, and various government agencies are following him. A question dogs our hero: why him? Why does Russia want him back, and why was he singled out to accompany the senator to Russia in the first place?
THE OLD SCHOOL by P.M. Newton (somehow I missed this and the following book - compared recently on

Fair Dinkum Crime

as Australia's crime fiction answer to THE WIRE I had to add both titles to my 'wishlist'.)
Sydney, 1992. Nhu 'Ned' Kelly is a young detective making her way in what was, until recently, the best police force money could buy. Now ICAC has the infamous Roger Rogerson in the spotlight, and the old ways are out. Ned's sex and background still make her an outsider in the force, but Sydney is changing, expanding, modernising, and so is the Job.

When two bodies are found in the foundations of an old building in Sydney's west, Ned is drawn into the city's past: old rivalries, old secrets and old wrongs. As she works to discover who the bones belong to – and who dumped them there – she begins to uncover secrets that threaten to expose not only the rotten core of the police force, but also the dark mysteries of her own family.
BEAMS FALLING by P.M. Newton (the follow-up to THE OLD SCHOOL)
On the inside, Detective Nhu 'Ned' Kelly is a mess. Stitched up after being shot, her brain's taking even longer to heal than her body. On the outside, though, she's perfect, at least as far as the top brass are concerned. Cabramatta is riding high on the new 'Asian crime wave', a nightmare of heroin, home invasions, and hits of all kinds, and the cops need a way into the world of teenaged dealers and assassins.

They think Ned's Vietnamese heritage is the right fit but nothing in Cabra can be taken at face value. Ned doesn't speak the language and the ra choi – the lawless kids who have 'gone out to play' – are just running rings around her. The next blow could come from anywhere, or anyone. And beyond the headlines and hysteria, Ned is itching to make a play for the kingpin, the person behind it all with the money and the plan and the power.
THE MARTINI SHOT : A NOVELLA AND SHORT STORIES by George Pelecanos (Any book by Pelecanos is an instant buy. This comes out Jan 2015)
George Pelecanos gets inside the minds and hearts of a cast of indelible characters: from the adoptive parents of Spero Lucas trying to expand and redefine their family, to a young boy involved in a drug deal gone bad, to a 1930s immigrant dishwasher facing down a corrupt Pinkerton agent. In the novella, "The Martini Shot," Pelecanos takes readers behind the scenes of a cable TV cop show, where a writer gets caught up in drama more real than anything in a script. Crackling with energy, these stories bring readers to a new understanding of humanity, modern life, and circumstances that stack the deck against people who are just trying to make a decent life for themselves. Gritty, sexy, fast-paced, humane, THE MARTINI SHOT is Pelecanos at his very best.
Wow - this was a great week of discoveries for me and I didn't even list them all! Loads of great books to look forward to.
Happy reading.