This series of blog posts is a top 5 topical 'best-of' list for all things bookish - be it true crime, fiction, novels to novella etc. - pretty much whatever topic I want to post about on a given day. The aim being to reintroduce myself with some old favourites (books/authors) and also take a look at some books/genres I'm yet to read much of. This is a more casual series of posts as there is no defined scheduled unlike my regular

Friday Finds

and

Monday Reads

, feel free to join in and post your top-5 all things bookish and provide a link in the comments.
Today I'm listing my top 5 comics that I'd like to see collected in a trade paperback edition from the ever expanding library of characters/titles from Valiant.
Valiant are making some great comics and have recently announced via twitter that a second collection could be in the works combining a selection of their best and most engaging comics since the original Must Read Valiant trade was published (which is brilliant).
This got me thinking about what comics I'd like to see collected in trade paperback. My choices below have the new reader in mind, so I'm looking at new arcs or ends of arc/moments that change the broader Valiant U which would act as a good jumping on point for readers not familiar with the characters.
In order:
1. UNITY #5 (written by Matt Kindt, art by Cafu)
From the solicitation:
Coming off of the earth-shattering repercussions of their first mission, Ninjak is leading the newly formed Unity team right back into the trenches to face the Valiant Universe's next colossal threat – the enigmatic Dr. Silk and his high-tech terror cell: WEBNET! With the fate of untold millions on the line, can this team of cutthroat heroes uncover Silk's endgame – and his connection to Ninjak's shadowy past? Move over, Harada – Matt Kindt and Valiant's next superstar artist, CAFU (Action Comics), are about to bring the world's next A-level enemy down on Unity with the force of a hundred hydrogen bombs.
Why:
Introduces a history to the concept of a united team of super powered heroes spanning back decades if not longer. Also marks the return of perennial bad guy Dr. Silk who looks to be more than a one arc nemesis for Unity and the broader Valiant U. A great jumping on point before ARMOR HUNTERS.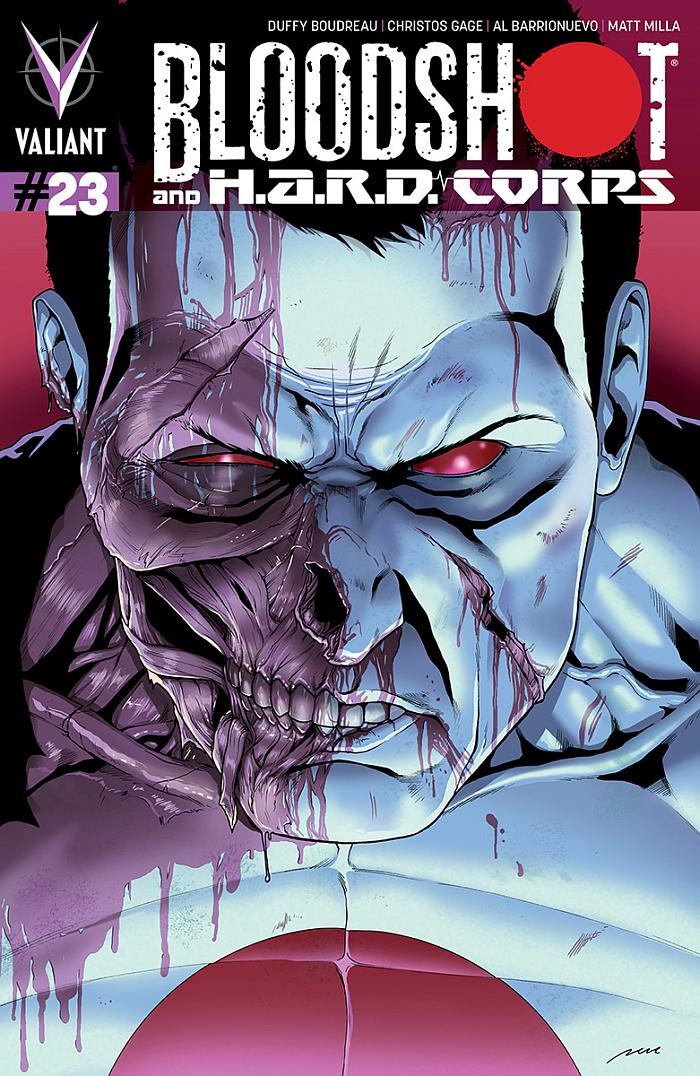 2. BLOODSHOT AND H.A.R.D. CORPS #23 (written by Duffy Boudreau, art by Al Barrionuevo)
From the solicitation:
The six men and women of H.A.R.D. Corps are all that stand between Bloodshot and everything he's ever wanted – the total destruction of Project Rising Spirit. The clock is ticking down to zero, the stakes are life-or-death…and no one in this fight has anything left to lose.
Why:
The end of the uneasy alliance that was Bloodshot and Project Rising Spirit sets the tone for a new status quo for Bloodshot while also providing a glimpse at a future incarnation of the HARD Corps. I really liked the writing and hope we get to see more from Boudreau on Bloodshot at some stage in 2015 when the character (fingers crossed) returns to his own title post THE VALIANT.
3. HARBINGER #23 (written by Josh Dysart, art by Clayton Henry)
From the solicitation:
Dead. Means. Dead.
Why:
That short, sharp solicitation really says it all. The Renegades are changed forever following Dysart's HARBINGER #23. Dysart consistently produces quality writing on this series and this issue is one of the finer examples.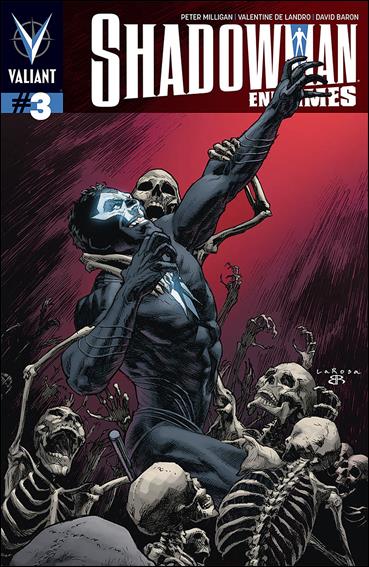 4. SHADOWMAN: END TIMES #3 (written by Peter Milligan, art by Valentine De Landro)
From the solicitation:
The curse of the shadow loa is a terrible cross to bear…and Jack Boniface is about to be crushed by it.

As an army of voodoo invisibles makes war on Shadowman, the tortured spirit inside Jack will begin to consume his soul – and force a final confrontation with his greatest enemy, Master Darque…once and for all.

Why:
Much like BLOODSHOT AND H.A.R.D. CORPS #23, this issue sets the tone for the troubled and constantly conflicted hero known as Shadowman following an alliance with the darker side of the Valiant U. I can't wait to see how this new direction for the character plays out and hope we get to see a SHADOWMAN vol.2 #1 in 2015.

5. RAI #1 (written by Matt Kindt, art by Clayton Crain)
From the solicitation:
The year is 4001 A.D. – led by the artificial intelligence called "Father," the island nation of Japan has expanded out of the Pacific and into geosynchronous orbit with the ravaged Earth below. With billions to feed and protect, it has fallen to one solitary guardian to enforce the law of Father's empire – the mysterious folk hero known as Rai. They say he can appear out of nowhere. They say he is a spirit…the ghost of Japan. But when the first murder in a thousand years threatens to topple Father's benevolent reign, Rai will be forced to confront the true face of a nation transformed…and his own long-lost humanity…
Why:
This far reaching futuristic tale set in the year 4001 is exceptional and perhaps the most fun I've had reading a comic in a long time. The art by Clayton Crain is just phenomenal and should be seen to be believed. As the arc progresses we get to see some linkages with past Valiant heroes to add a broader sense of continuity to RAI despite being set so far into the future which makes it all that much more enjoyable.