This is a weekly meme hosted by
Book Journey
. In order to get some consistency to my posting I thought I'd jump on board this great idea. As a self-proclaimed bookaholic, I love talking about my books and finding out what others are reading.
This week I'm going with a bikie themed reading week:
DARK WATERS by Deborah Sheldon (Readers of this blog know I loved Sheldon's Aussie noir novlla, RONNIE AND RITA and DARK WATERS looks to be more of the good stuff)
*You may read my review of
RONNIE AND RITA HERE
.
*
Click to read my interview with Deborah Sheldon
.
Brendan Reilly, a.k.a. Danny Boy, is a veteran of the Overlords, a Melbourne outlaw motorcycle club.
A near-fatal accident leads him to an epiphany: he is determined to quit the life and reconnect with his ex-wife and son.
At the same time, the Overlords are preparing for war against a rival gang, the Golden Jackals, and with Brendan's loyalty in question he is pushed further into the war when all he wants is a way out.
Dark Waters is an exploration of love, duty and redemption played against the backdrop of Australia's criminal underbelly.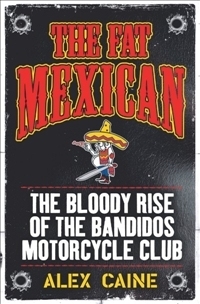 THE FAT MEXICAN: THE BLOODY RISE OF THE BANDIDOS MOTORCYCLE CLUB by Alex Caine
The compelling story of the rise and rule of one of the world's most feared outlaw motorcycle gangs - in the bestselling tradition of Dead Man Running and The Brotherhoods.
Having infiltrated the Bandidos for three years in a landmark police operation, Alex Caine is uniquely positioned to tell the untold story of the Hells Angels fiercest rivals, the Bandidos.
Started in the mid-sixties by a group of Texas malcontents and ex-military who idolized the Hells Angels, the Bandidos now operate in almost every country of the world and are especially potent in Europe, Australia, the US and Canada. The Fat Mexican unearths the violent criminal history of the Bandidos: their four-decades-old battle with the Hells Angels, the terror their global expansion has caused rivals and innocents alike and the internal politics and rivalries that drive them to this day.