This is a weekly meme hosted by
Book Journey
. In order to get some consistency to my posting I thought I'd jump on board this great idea. As a self-proclaimed bookaholic, I love talking about my books and finding out what others are reading.
Here are my picks for this week: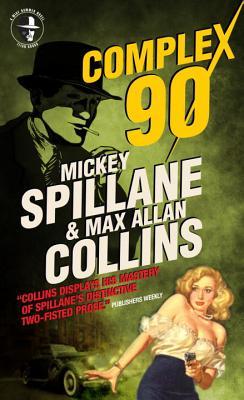 COMPLEX 90 by Mickey Spillane and Max Allan Collins (book #19 in the Mike Hammer series)
Hammer accompanies a conservative politician to Moscow on a fact-finding mission. Arrested and imprisoned by the KGB on a bogus charge; he quickly escapes, creating an international incident by getting into a fire fight with Russian agents.
On his stateside return, the government is none too happy with Hammer. Russia is insisting upon his return to stand charges, and various government agencies are following him. A question dogs our hero: why him? Why does Russia want him back, and why was he singled out to accompany the senator to Russia in the first place?
THE LAST QUARRY by Max Allan Collins (perhaps my favorite of the Quarry novels. This book continues my re-reading of some of my favorite books in my collection.)
The ruthless professional killer known as Quarry long ago disappeared into a well-earned retirement. But now a media magnate has lured the restless hitman into tackling one last lucrative assignment. The target is an unlikely one: Why, Quarry wonders, would anyone want a beautiful young librarian dead?
And why in hell does he care?