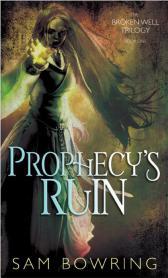 It started with a brutal battle of magic and wit between mage Elessa and undead soul Fazal over the right to claim the blue haired boy who'd lead them to victory and shape their sides' destiny. Corlas – the father could do nothing but watch as his newborn's soul was torn in two by the Gods will through lightning strike leaving each of Kainordas (light) and Fenvarrow (dark) a powerful future leader.
Whilst more bloodthirsty than not, PROPHECY'S RUIN did have a healthy dose of humor to soften the violence.
The two factions at war were given equal time to tell their side of the story through their respective heroes (Bel and Losara) raising questions over who is good and who is evil. Unlike traditional fantasy, the sides weren't so easily defined.
Of the more memorable moments (of which there are many) the battle in the forest of Drel stands out, I could almost smell the blood dripping off the pages and was filled with a sense of dread with each combatant felled or wounded.
PROPHECY'S RUIN was a great start to what I'm sure is a highly entertaining Broken Well Trilogy with enough twists and turns to keep the reader guessing.
*This review first appeared on my Goodreads profile. Re-posted on my blog for the purpose of revisiting the series. I plan to read the second book in the series DESTINY'S RIFT soon.
Read more of DESTINY'S RIFT - book 2 in the Broken Well series HERE.