This is a weekly meme hosted by
Book Journey
. In order to get some consistency to my posting I thought I'd jump on board this great idea. As a self-proclaimed bookaholic, I love talking about my books and finding out what others are reading.
Last week I posted the following reviews:
Here's my reads for this week:
PLEASE DON'T LEAVE ME HEAR by Tania Chandler (really liking the duel past and present tense of this book - two equally enjoyable sides to the
interconnected
plot threads)
Kurt Cobain stands at the top of the stairs, wearing the brown sweater. 'Please don't leave me,' she yells up at him. But it's too late; he's turning away as the tram slows for the stop out on the street.
Then she's lying on the road. Car tyres are going past, slowly. Somebody is screaming. A siren howls.
Sweet voices of little children are singing 'Morningtown Ride'.
Is Brigitte a loving wife and mother, or a cold-blooded killer?
Nobody knows why she was in the east of the city so early on the morning she was left for dead by a hit-and-run driver. It was the Friday before Christmas 1994 — the same day police discovered the body of a man beaten to death in her apartment.
Fourteen years later, Brigitte is married to the detective who investigated the murder, which she claims to have lost her memory of in the car accident. They have young twins, and seem to be a happy family. Until the reopening of the cold case.
SPEAKING IN BONES by Kathy Reichs (the new Temperance Brennan novel)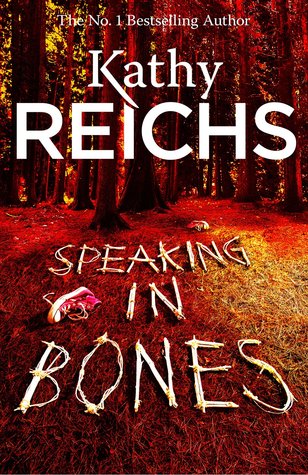 For every case Temperence Brennance has solved, there remain innumerable unidentified bodies in her lab. Information on some of these is available online, where amateur sleuths sometimes take a stab at solving cases. One day, Tempe gets a call from Hazel "Lucky" Strike, a web sleuth who believes she's successfully connected a body in Tempe's lab to a missing persons report on an eighteen-year-old named Cora Teague. Since the bones in her lab do seem to match Cora's medical records, Tempe looks into the case, returning to the spot where the bones were originally found. What seems at first to be an isolated tragedy takes on a more sinister cast as Tempe uncovers two more sets of bones nearby. When she then learns that the area is known as a viewing point for a famous unexplained light phenomenon with significance for a local cult, Tempe's suspicious turn to murder by ritual sacrifice—a theory thrown into question when Hazel herself turns up dead. Still reeling from her mother's diagnosis and the shock of Andrew Ryan's potentially life-change proposal, Tempe races to solve the murders before the body count climbs further.