This is a weekly meme hosted by
Book Journey
. In order to get some consistency to my posting I thought I'd jump on board this great idea. As a self-proclaimed bookaholic, I love talking about my books and finding out what others are reading.
Last week I posted the following reviews:
ZER0ES by Chuck Wendig (tech-thriller with a twist)
WHEN THE MUSIC'S OVER by Aidan Thorn (noir novella)
Here's what I'm reading this week so far: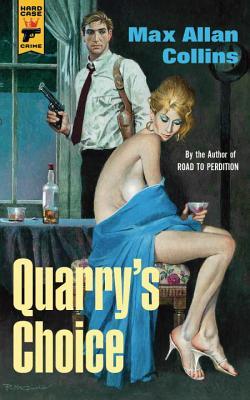 QUARRY'S CHOICE by Max Allan Collins (Quarry #12)
Quarry is a pro in the murder business. When the man he works for becomes a target himself, Quarry is sent South to remove a traitor in the ranks. But in this wide-open city – with sin everywhere, and betrayal around every corner – Quarry must make the most dangerous choice of his deadly career: who to kill?
BLACK SCIENCE VOL 1: HOW TO FALL FOREVER written by Rick Remender, art by Matteo Scalera
Anarchist scientist Grant McKay has done the impossible! Using the Pillar, he has punched a hole through the barriers between dimensions, allowing travel to all possible universes. But now Grant and his team are trapped in the folds of infinity, the Pillar sending them careening through a million universes of unimaginable adventure, sanity-flaying danger and no way home...
Presenting the first mind-warping chapter of the critically acclaimed sci-fi epic by superstar creative team of writer RICK REMENDER (Uncanny Avengers, Captain America) and artist MATTEO SCALERA (Secret Avengers).

Collects BLACK SCIENCE #1-6.