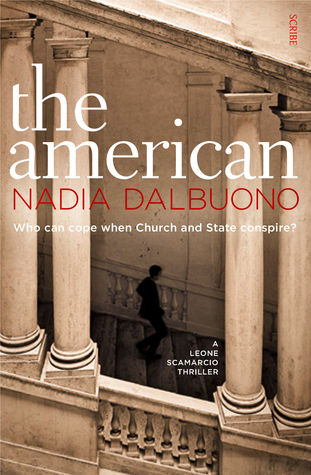 From the back of the book
Detective Leone Scamarcio is called to an apparent suicide on the Ponte Sant Angelo, a stone's throw from Vatican City. A man is hanging from the bridge, his expensive suit suggesting yet another businessman fallen on hard times. But Scamarcio is immediately troubled by similarities with the 1982 murder of Roberto Calvi, dubbed 'God's Banker' because of his work for the Vatican Bank.
My review
The second book to feature the Italian detective Scamarcio builds upon the dark nature of the character touched upon in THE FEW; the clean cop who wants justice, yet one who is willing to venture into the badlands of the other side of the law to get it. His close association with a prominent underworld figure is key as Scamarcio fights politics, corruption, and religion to solve two murders.
THE AMERICAN is a crime mystery swathed in unpredictability. Author Nadia Dalbuono never lets the reader get too comfortable as motives, corruption, and lies move like the undercurrents of a murky river camouflaging the truth.
I love reading international crime fiction and THE AMERICAN provides a nice avenue for adventure into other parts of the world; a mechanism to explore, if only from a birds eye view the procedural aspects which intertwine fact with fiction to formulate a complex narrative that is as readable as it is believable across different continents.
THE AMERICAN is a well paced book that outshines its predecessor, THE FEW, and has an explosive ending that is sure to send ripples throughout the later books in the series. I really liked this one.